eSDS.eu
---
Safety Data Sheet
The safety data sheet shall enable users to take the necessary measures relating to protection of human health and safety at the workplace, and protection of the environment. The safety data sheet must inform its audience of the hazards of a substance or a mixture and provide information on the safe storage, handling and disposal of the substance or the mixture.
Extended Safety Data Sheet
The extended safety data sheet includes exposure scenario. Exposure scenario contains practical advice on the conditions under which the chemical can be used safely.
European Safety Data Sheet
The Safety data sheet follows a 16-section format which is internationally agreed and to be provided in the official language of the Member State(s) where the substance or mixture is placed on the market.
1: Identification of the substance/mixture and of the company/undertaking
2: Hazards identification
3: Composition/information on ingredients
4: First aid measures
5: Firefighting measures
6: Accidental release measures
7: Handling and storage
8: Exposure controls/personal protection
9: Physical and chemical properties
10: Stability and reactivity
11: Toxicological information
12: Ecological information
13: Disposal considerations
14: Transport information
15: Regulatory information
16: Other information
The Safety data sheet and label are instruments to be used to communicate the hazards of substances and mixtures.
Hazardous substance (example)
Methanol
(67-56-1, methyl alcohol)
Examples of uses:
The primary use for methanol is as a fuel. It is also used for waste water treatment and for producing biodiesel. Methanol is also used in the production of numerous household products and as a solvent or antifreeze in, for example, paints and paint strippers, carburettor cleaners and car windshield washing fluids.
Labelling:
Highly flammable liquid and vapour.
Toxic if swallowed.
Toxic in contact with skin.
Toxic if inhaled.
Causes damage to organs.

Danger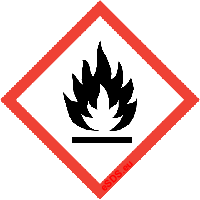 ---
© 2013 - 2015, eSDS.eu